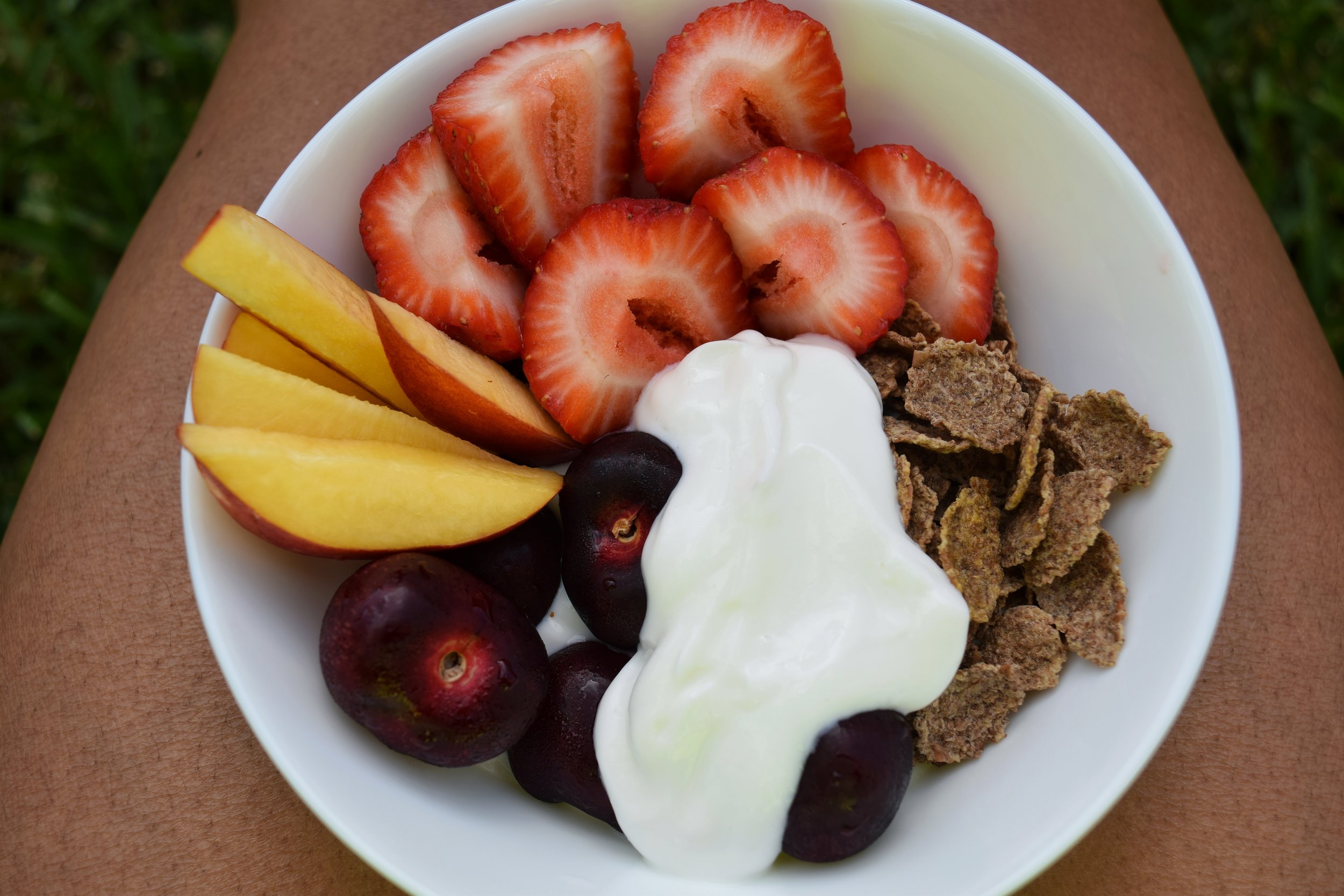 i sat here and laughed at my post title for waaaay too long. but uhhh, fit friends, there is absolutely nothing funny about constipation, preggo or not. it can be incredibly painful, draining, and helloooo hemorrhoids :( . if you're pregnant and experiencing sickness on top of that, double whammy, right!? what's going on? your pregnancy hormones (progesterone) weaken your bowel muscles making them sluggish and slow to do their job, and your expanding uterus is taking up the room your bowel would normally use to do its thing. it's a lot going on in there! what makes this process easier on you? start with adding more fiber-rich foods to your diet, something you can totally control. you don't want to go from 0 - 100 though as that could bring on bloating and gas; you've got to pace yourself with fiber. you can do it! you need 25-35 grams of fiber daily, so quick, read these examples and tips of what you can eat to get you there.
1 cup of raspberries = 8 g fiber

1 cup split peas = 16g fiber

1/2 cup lentils = 8g fiber

1/2 cup black beans = 8g fiber

1 cup cooked sweet potato = 6g fiber

1/2 cup rolled oats = 5g fiber

1 medium artichoke = 10g fiber

10oz of spinach = 8g fiber

1 medium pear = 6g fiber

1 cup sweet corn = 4g fiber

1/2 cup shredded wheat cereal = 6 grams fiber

3/4 cup bran flakes = 5g fiber

1/2 cup of edamame = 9g fiber & 11g protein!

half an avocado = 5g fiber

1 cup cooked broccoli = 5g fiber

5 prunes = 3g fiber

1 medium apple = 4g fiber
here's a fiber rich snack i've been enjoying lately! i don't even want to chance belly bloat by eating dairy, so unsweetened cultured coconut milk has been my go-to instead of plain, greek yogurt. i top it with fresh, sweet summer berries and *bran flakes. it's a plus that the berries are on sale around this time of year, and the vitamins, minerals, and antioxidants present are wonderful for baby and i.
there is always a hungry visitor lurking around my food shoots...always!
no kisses, no fruit!! :)
4 more ways to keep things moving along:
hydration. keep chugging water and don't let up. it's no secret that i've never been great in this area but this pregnancy has given me no choice but to keep water bottles everywhere! i wake up in the middle of the night sometimes craaaaazy thirsty. i fill up my tumbler above before heading to workout and i've started adding fruit to my sparkling water again; it helps. upping my water keeps me running to the bathroom twice as much, but it's worth the sacrifice. whatever i can do to escape constipation, i will. down 8 full glasses per day, and more if needed if you're active and moving. also, a little 100% prune juice in your sparkling water works as a great, mild laxative, as well as real prunes.
keep moving. regular exercise encourages regular bowel movements. even a 10 minute walk counts; just do something, mamas. prenatal yoga, step aerobics, water aerobics, zumba, spinning...just go! if you're not moving around, chances are your system ain't either! i'm currently 15 weeks and counting and feeling GREAT again, thank God.
keep it clean. your diet of course! now, my 1st tri definitely wasn't the cleanest. most days started with a breakfast of eggs and toast, but everything after that? crackers, sparkling water, and a 5pm bed time. i was just trying to get through the day without making my evening sickness worse or come faster and literally nothing sounded or looked appealing. except Mexican food, haha. do your best and realize the cleaner (low-no process foods) you eat though, the smoother your system will run. it's that simple. your 'plumbing' is already being reworked to house your baby; don't make it have to work so much harder.
pace yourself. not only should you eat slower, you should also eat more frequently. at one point in my first trimester if i ate too little, i made myself sicker. if i ate too much, i was completely miserable. you gotta get it just right but one thing you do not want to do is overeat. as i stated above, the pregnancy hormones slow our digestive systems way down so it takes even longer for our food to travel on through. i repeat, do not overeat! overloading your system is not cool at a time like this! plus, if you're ingesting a ton of highly processed food at that? trust me on this one. don't do it. 5 to 6 meals a day with plenty of water in between is your best bet, not 2 or 3 large ones. remember, this too shall pass. :)
---
thank you for weighing in on some of your favorite Trader Joe's finds via Instagram recently! i find a new, cool, must have item every single time i go. this mini haul we got:
Tandoori Naan - i pay upwards of 3 dollars for 2 pieces of naan elsewhere but found 4 in a pack for 1.99 at TJ's! super STOKED about that! my boys love them with cheese and turkey pepperoni on top. cooks right up in 8 minutes under the broiler (these come frozen so thaw them first).
Cookie Butter Ice Cream - this was aaaaaall Chiso (5) yall, lol! instead of stopping by Chick-Fil-a like i planned for a single serving, a pint seemed like a better idea. i told him to pick out a flavor and this is what he chose. that's my boy, hahahaha
Sunflower Seed Butter - ever tried it? if your kids have nut allergies, then this, my friends, is their 'peanut' butter right here! it's simply roasted sunflower seeds blended up until super smooth and creamy. we are allergy free over here; we just love this stuff though.
*Bran Flakes - i go to TJ's JUST for this cereal! inside is exactly what you expect-- bran flakes. nothing more, nothing less. no bells or whistles needed. it has a pinch of sweetness and the crunchiness of the flakes paired with some cold, unsweetened vanilla almond milk? a 1st trimester woman's dream breakfast, lol. i used to eat it dry after first waking up to keep sickness at bay for a while and it helped a ton. 5g of fiber per 3/4 cup serving, remember!
Mac and Cheese - guys, i picked up the wrong box of mac and cheese!!! i meant to get their Reduced Guilt Mac and Cheese instead, whoops. next time, next time. anyway, Dego and i still killed this entire box in one sitting.
Unsweetened Vanilla Almond Milk - a dairy-free staple in our home. i enjoy this variety and Silk the most.
Roasted Plantain Chips - what can i say... Grazers R US :P
Q:

keep it going! what other TJ's items are so awesome you have to tell somebody else about them?? i overheard a woman basically command and shout at her friend to, 'get the orange chicken!!!' while in the frozen foods aisle, ha. it must be that good; have you tried it?
K E E P U P W I T H U S !
SUBSCRIBE TO OUR

YOUTUBE

CHANNEL, FOLLOW US ON

INSTAGRAM, TWITTER, PINTEREST,

AND

SNAP CHAT

(FITFOODIELE)

.